PatientAdvocacy.Academy 2023
Strong organization, powerful advocacy
In this edition of PatientAdvocacy.Academy, we wanted to teach participants how to build a strong and credible organization with a well-planned budget and effective fundraising, which has dedicated and committed volunteers. And, equally important, how to effectively conduct public policy advocacy activities. We focused on issues related to communication with stakeholders, HTA, access to treatment and improving the quality of life of patients.
How did the PAA2023 look in practice?
1. Videos full of knowledge, case studies & practical examples
The main element of the course were 10 video lectures, 15-20 min. each, covering the most important issues related to the topic of this edition of the course, such as planning the organization's budget, writing a letter to the Minister of Health or fighting for access to treatment. We took care of the subtitles in English so that each participant can understand the content, even if their English language skills are limited. Additionally, at the request of some participants, we also created a video transcription in Russian for Russian-speaking participants. Each video also consisted of many additional screens, charts and infographics to make learning easier and more enjoyable. We made sure to provide as many practical examples as possible to illustrate what we are talking about.

2. Educational materials to support learning and translating knowledge into practice
Additional educational materials were prepared for each video lesson, such as printable worksheets and quizzes. They allow participants to consolidate their knowledge and immediately translate it into practical solutions for their patient organizations.
3. Online video circles to discuss the most challenging issues
Online video circles are always an opportunity during the Academy to discuss the biggest challenges participants face in their patient organizations. We select topics for online coaching circles based on information from 1-on-1 conversations. Due to the specificity of the topics, this year we decided to work in smaller groups. We also asked some participants to prepare short presentations and share their success stories during coaching circles. Thanks to this, together we were able to develop ready-made solutions for each of the participants.
4. Ongoing communication on Slack group
During the entire Academy, a Slack group was available to all participants. It is a communication platform that enables ongoing discussion. Participants can exchange experiences, ask questions to trainers, and present the achievements of their patient organizations.
How skills of the participants have improved?
An important element in checking the effectiveness of the Academy is always conducting surveys before the start of the course and after its completion. Thanks to this, we can assess whether the assumed goals have been achieved.
As you can see in the chart, this year, academy participants rated their patient advocacy skills much better after completing the course compared to before. So our goals have been achieved.
The overall skills assessment, according the self-report of the participants, before the course was 5,0 (on a scale of 1 to 10) while after the course – 8,6. It's a 72% increase of their own skills assessment. We will discuss the survey results in detail later in the report.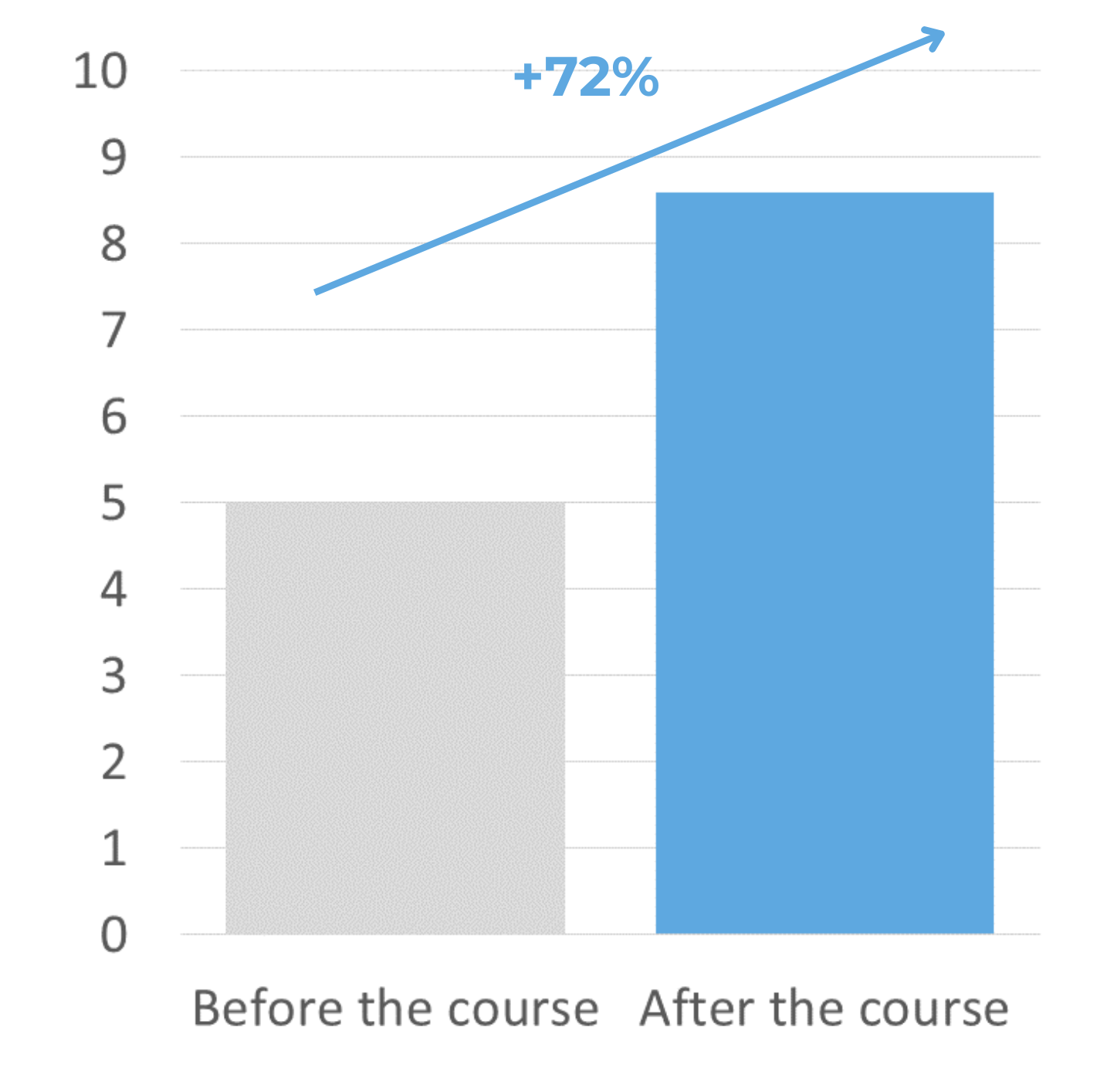 Participants' assessment of the PAA2023
To learn the participants' opinions, after completing the Academy, we asked them a few questions about the course in the form of an anonymous survey. We are glad that the Academy again received a very high rating! All opinions and suggestions will be used to prepare even better training next year!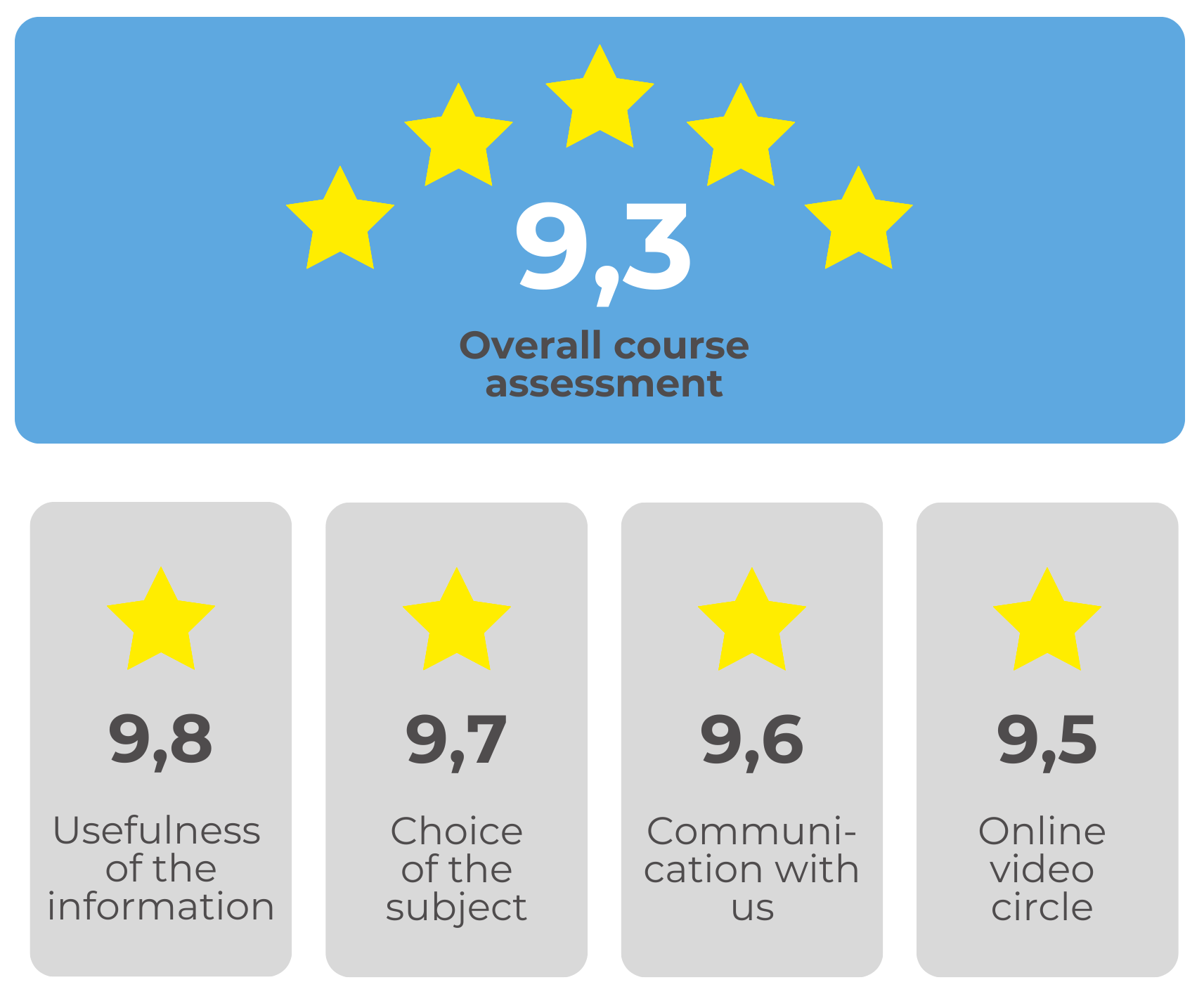 "I truly enjoyed the format of the Academy, as well as the engaging and informative content. (...) I was particularly impressed with the video lectures. They were exceptionally well-executed, with excellent audio, video quality, and a professional presentation of the material. If there are more Academies like this in the future, our organization will eagerly participate!"

Oleksandr Radchenko, Ukrainian Alliance for Haemophilia and Related Disorders
"I just want to thank (…) for another amazing workshop! The videos were more than interesting, and also most relevant (and practical). I truly enjoyed it!"

Stefan Radovanović, Serbian Haemophilia Society
If you want to learn more about PatientAdvocacy.Academy 2023, please click here to check our report in the PDF file.