Trainings for patient advocates
Multiple times we had a pleasure to conduct training sessions and workshops for patient advocacy groups and healthcare professionals.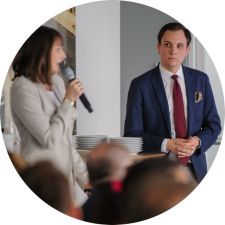 In 2015 on an international meeting for PAG leaders in Budapest co-organized by Octapharma and Jeffrey Modell Foundation we conducted a training on patient communication, engagement and media relations.
In 2016 Adrian Goretzki was a speaker on the session about fundraising for PAGs during the international congress of European Society for Immunodeficiencies in Barcelona.
In 2018 we conducted a 2-day training for leaders of a PID patient advocacy group in Poland
Since 2018 every year we organize a PatientAdvocacy.Academy – a first ever online academy about patient advocacy, addressed to PAG representatives, especially those acting in the area of rare diseases. It is a 21-day event containing various activities: lectures, online meetings, exercises and many more. You can read more about each edition in the Online courses section.