Educational projects
Here you can find examples of our educational activities – they are chosen from many projects done for patient groups, mostly in the field of clinical immunology. We are so proud of them because many times we gained evidences that they really have changed peoples' lives in a positive way. We addressed them to patients themselves, but also to their families and loved ones, to physicians, other stakeholders and the whole society.
Patient education
---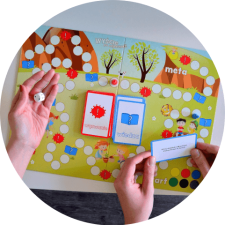 "Race for the immunity" – educational board game in multiple languages
"Race for the immunity" is an educational board game created for the youngest patients with PID. In a simple way it presents issues related to primary immunodeficiencies – it is adjusted to the child's cognitive abilities. The game helps the youngest patients to understand matters related to PID and to shape the right attitudes of children. It was created in cooperation with dr Sylwia Kołtan, PhD who was responsible for medical consultation. In Poland "Race for the immunity" was distributed to paediatric departments treating children with PID and was handed free of charge to the youngest patients. The game currently has three language versions: besides Polish there are also Russian and Italian ones.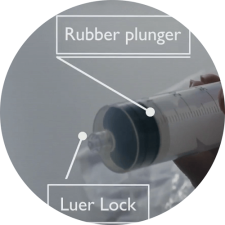 Videoguides
Videos were form the very beginning our most important way of communication with patient communities. Thanks to videos we are able to deliver knowledge in a friendly, condensed and attractive manner. It is definitely the easiest method of reaching the maximum range of patients. Videos are likely shared in social media, so they not only educate patients, but also can raise public awareness. Among others, we produced a tutorial video on subcutaneous immunoglobulin infusion (SCIg), a series of primary immunodeficiency (PID) patients' testimonials translated into 8 languages and a complex video guide about PID with 10 clinical immunologists talking on different topics related to the disease. Our newest video production is a set of testimonials of a patients with Fabry's disease.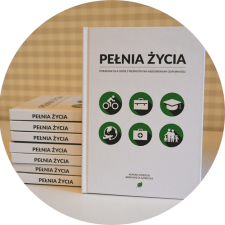 "Fullness of life" – the world's first psychological handbook for PID patients
In 2017 we have written the world's first psychological handbook destined specifically for PID patients – "Fullness of life". This is the source of knowledge for patients, their families, partners, relatives, friends, but also nurses and doctors of different specialties. We focused on 4 areas for building fulfilled, happy and active life despite of all the restrictions caused by chronic illness: communication with family, loved ones and caregivers; coping with stress and other burdens related to illness; planning the path of our life – education, career, starting a family and patient's self-esteem building. We hope that thanks to that patients start living their lives to the fullest extent and taste what fullness of life actually means.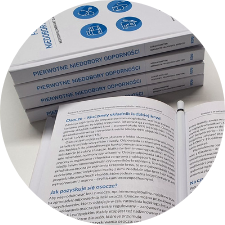 "Primary immunodeficiencies. A medical handbook for patients and their families"
In 2021 we published a handbook for PID patients and their relatives. It's a guide to the most important issues for every patient. We explain what PIDs are, discuss their most common types, present available treatment methods with special emphasis on immunoglobulin therapy. We describe the most common co-morbidities and their warning signs. We also write about vaccinations, issues related to inheritance and care of a child with PID. And all this in maximally simple language, with many explanations and an extra glossary at the end of the book. We hope that after reading, every patient will have a better understanding of their disease and will be able to cope with it even more effectively. The books were distributed free of charge to PID patients in Poland.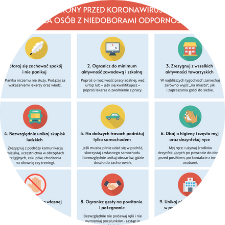 COVID-19 educational materials
We prepared a set of 12 key principles for patient with primary immunodeficiences. These recommendations were created in cooperation with prof. Sylwia Kołtan, Polish National Consultant for Clinical Immunology. The infographics were translated into 6 languages (Polish, English, Ukrainian, Finnish, French and Russian) and distributed to PID patients in many different countries. We also prepared a leaflet and social media graphics with the pandemic recommendations for Polish patients with Fabry disease. The content was reviewed by prof. Jolanta Sykut-Cegielska.
Brochures for Ukrainian rare disease patients in Poland
In 2022 we prepared three printed brochures for Ukrainian rare disease patients in Poland which are available free of charge at hospital wards where rare disease patients from Ukraine are treated. The first one presents medical care system in Poland from the perspective of RD patients, the second is a Ukrainian-Polish medical dictionary for patients with primary immunodeficiencies. It contains over a hundred of the most important medical terms related to PID and often used in a doctor's office or medical records. The third brochure is about social benefits for RD patients who are refugees in Poland.
Raising awareness
---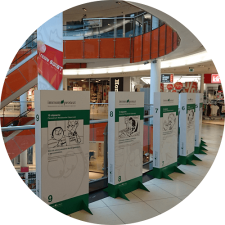 Nationwide 'Yes For Immunity!' awareness campaign
Awareness campaign titled 'Yes For Immunity!' was the first initiative of this kind in Poland. Its goal was to increase public awareness about the PID and the importance of early diagnosis for this rare genetic condition. One of its elements were displays in the biggest Polish shopping malls presenting ten PID symptoms, 'Immunoprotect's' achievements and useful information about available medical support. The displays were followed by the wide educational campaign in the media.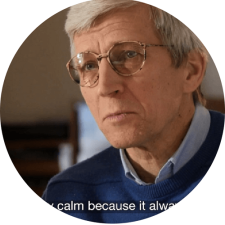 Full-length film "It might be your story"
We have produced the first ever documentary film about PID. It presents the course of the disease from the moment before the diagnosis until the period of efficient treatment. The film features real people suffering from PID, their families and physicians-immunologists. Such choice of characters provides different points of view. We have also prepared its shorter version which is displayed during congresses and conferences. Moreover, the film is being used as an educational material for Silesian Medical University and Jagiellonian University's Collegium Medicum students, subsequently increasing the knowledge of PID among the future doctors. It has been translated into English, Portuguese and Russian.